180º, 270º and 360º performance reviews
There are different types of performance appraisals, and they mainly differ in terms of the people who are invited to give feedback.

In the 180-degree performance review, a professional is evaluated by their manager, their teammates and, where applicable, their clients. The 270º feedback method is where the employees give their opinion about their line manager. Lastly, the 360º feedback method is where managers, teammates, clients and suppliers are involved.

As there are so many people involved in the process: the HR department has to contact them, send out questionnaires, collect information, etc. And this takes a lot of work. The software, on the other hand, automatically sends the questionnaires and filters the information for you.

Talent matrix
A talent matrix or competency matrix is a tool that helps you balance team performance and foster skills development. The matrix illustrates the skills that are desired, available and those that the team doesn't possess. It's particularly useful in defining processes or creating new teams.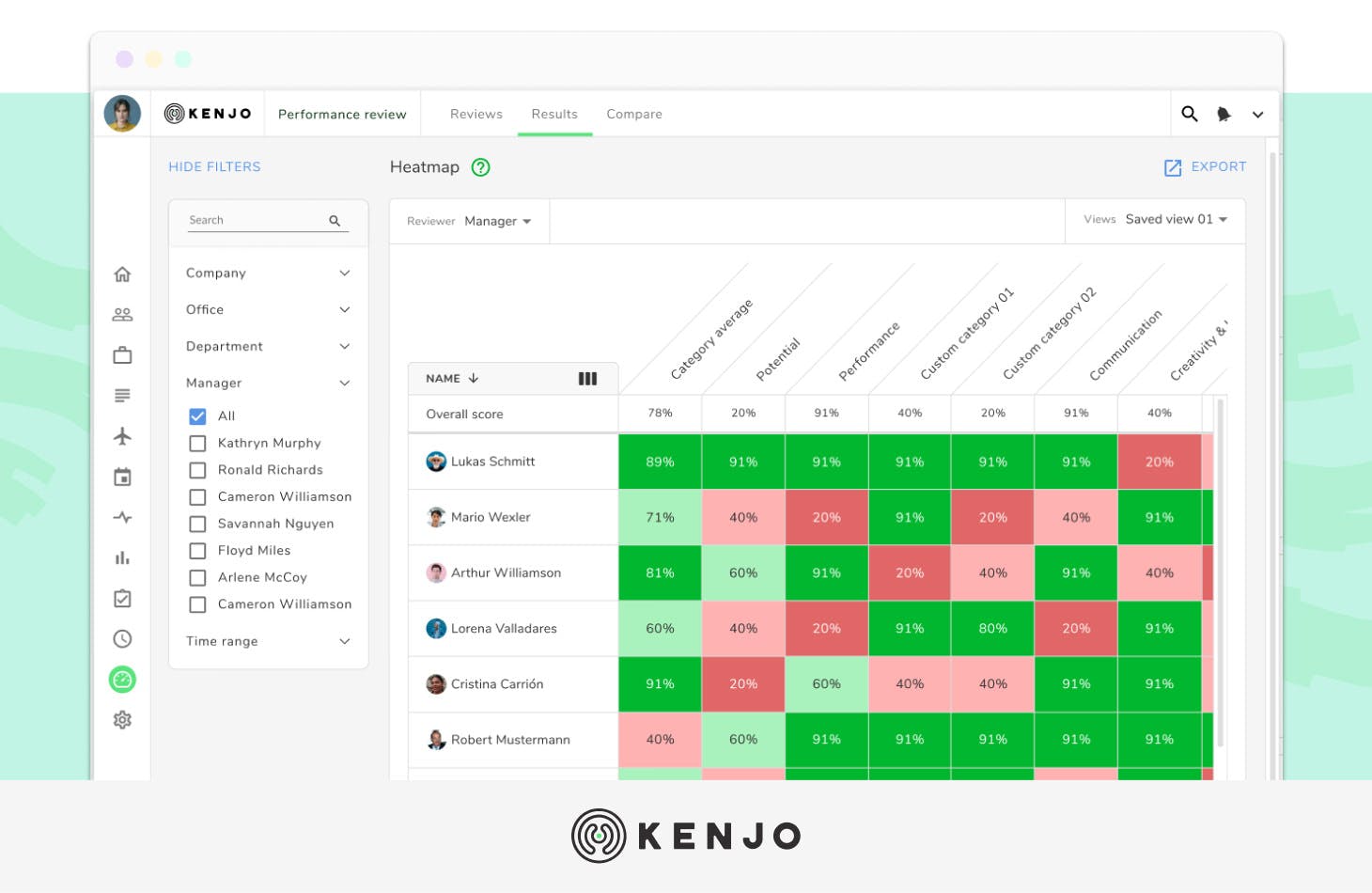 Real-life example of our software
Continuous and anonymous feedback
Human resources software can also be useful for opening a continuous and anonymous internal feedback channel in the company. You can automate and send regular surveys to follow up on employee development or identify potential issues in advance.

OKRs
OKR stands for Objective and Key Results. A management by objectives system, it's used by teams to achieve ambitious goals through a framework that requires regular monitoring, continuous learning and problem-solving. It's a simple but very useful system for executing strategies and pinpointing where to focus your efforts.

As the name suggests, the OKR methodology consists of an objective and key results that confirm if you're on the right path. The process of developing OKRs for the company or employees is quite simple, but you have to be thorough if it's going to work.

This kind of software enables you to record these objectives, easily track them and also, store the information to create a performance record for each employee.

Recruitment and selection

All companies carry out selection processes to cover job vacancies at some point or other. This means publishing the job opportunity on different portals, filter CVs, organise and carry out interviews, etc. In other words, it's a lot of work.

One way of making recruitment processes easier is to use an Applicant tracking system (ATS). This acts as a CV database for the HR department and is on hand whenever needed. So it'll be much easier for you to organise, filter and select the candidate that best suits your organisation's needs.

So, you could say that ATS software lightens HR's workload when it comes to finding new talent.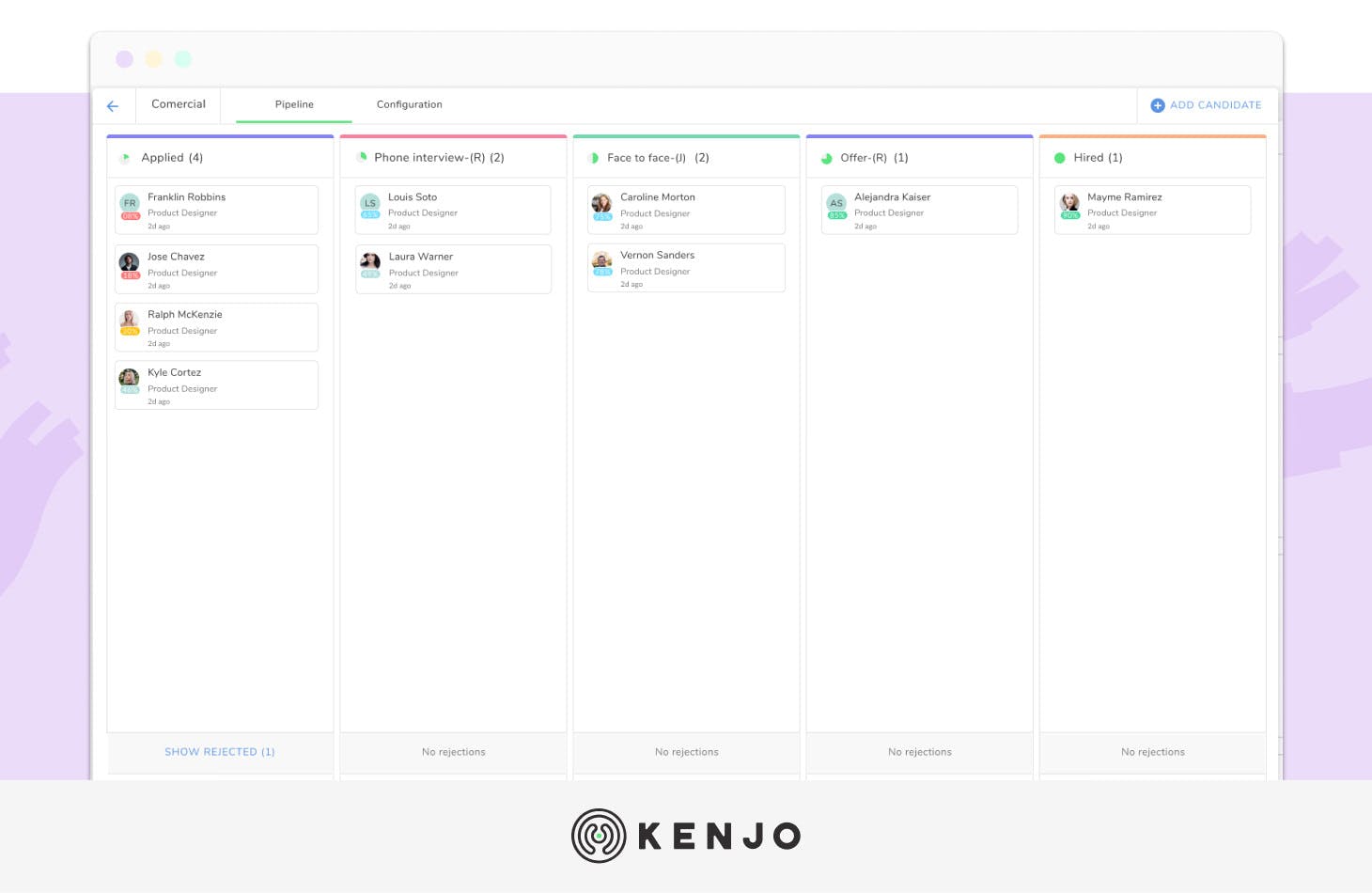 Real-life example of our software
Sourcing candidates through job portals
When choosing software, make sure it will connect to some of the main job portals: LinkedIn, Totaljobs, Indeed, etc. This means you can publish offers directly from your platform without having to do it through each portal individually. On the one hand, this saves you a huge amount of time and, on the other, centralises all applications ready for the filtering stage.

CRM for candidates
This software enables you to store candidate information and also create a record for any comments or documents you wish to attach. This is handy because anyone in your team will have access to observations made by the interviewers who met them, the reasons they were rejected and those that were eventually selected. It's a great way of keeping information organised and accessible.

Jobs page
Having a jobs page on the company's website is the most economical way of capturing talent. Publish existing vacancies and also provide a form so that candidates can send their CV at any time. With this software, you'll be able to manage, update and receive all requests in the same inbox too.
‍
At the same time, a jobs page reinforces employer branding which, in turn, helps attract more candidates.

Scorecards
Scorecards are the most effective way to combat bias and subjectivity during interviews. This tool acts as a control panel for standardising the evaluation. This ensures that interviewers ask all candidates the same questions and rate their answers on a predefined scale. So, in other words, it's a template that needs to be completed for each candidate.

Once the interviews are over, recruiters can check each candidate's scores and compare the results. In theory, one with a higher score is the best fit for the role.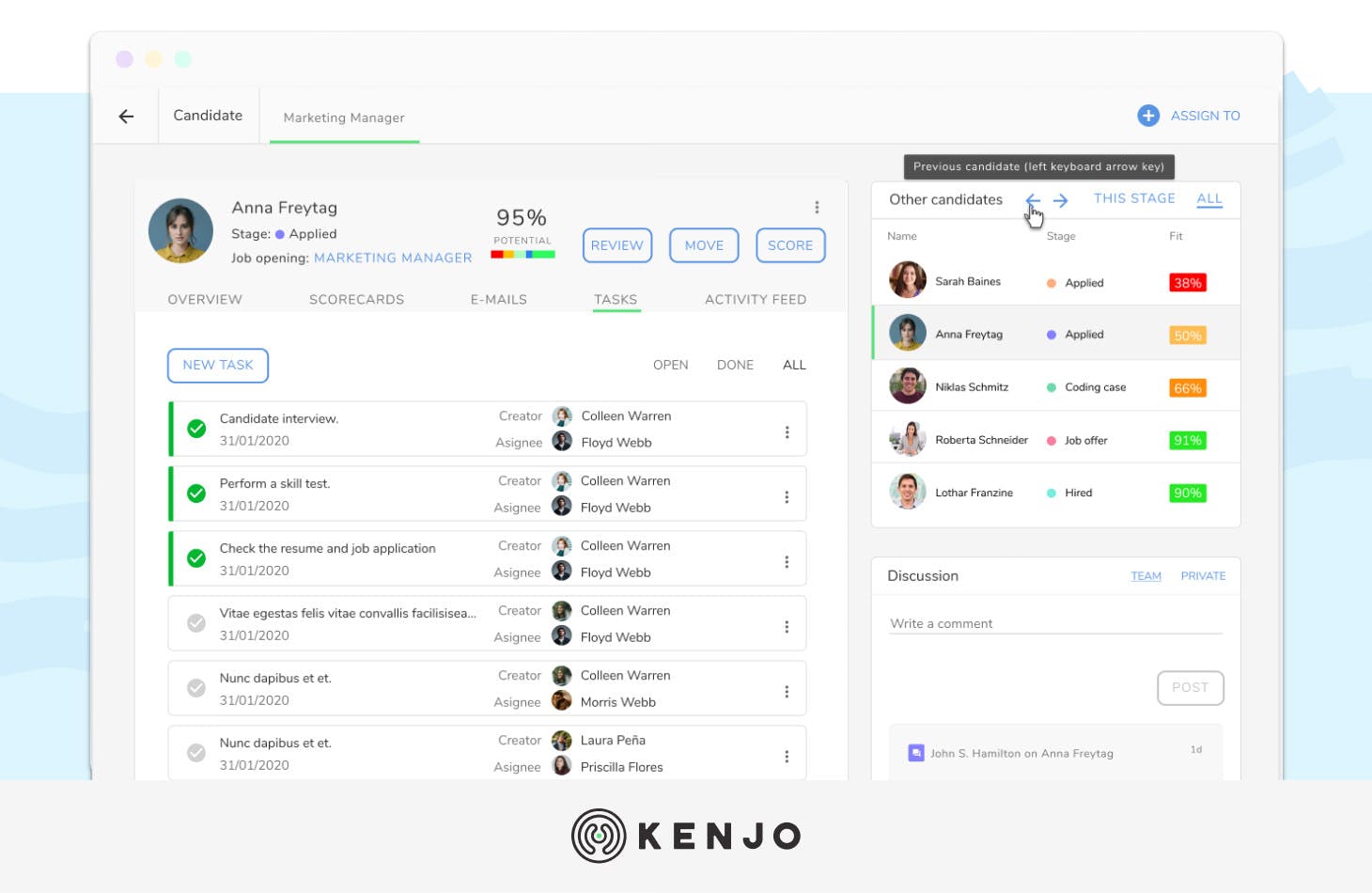 Real-life example of our software
Payroll solution
Payroll is a complicated area, and there are many software companies and service professionals who can help you streamline a process that takes up so much of HR's time. The most important thing to consider when choosing payroll software is to decide which stage of the payroll process you need help with:

The first stage involves collecting the information that affects each employee's payslip. At this stage, you need a payroll adjustment software.
In the second stage, the payslips themselves are generated. For this, you need a software that prepares payslips, but you need a technically-minded team member for this.
Kenjo's payroll adjustment feature focuses on the first phase. It enables you to collect all payroll adjustments so that you can then generate payslips (via software all through an agency).

Work climate
The climate is one of the factors with the most significant influence inside a company. A negative working atmosphere increases absenteeism, staff turnover and hinders talent acquisition. In contrast, happy employees are more creative, more productive and more committed to the company. How do you measure well-being in your workforce? Send workplace surveys at regular intervals.
‍
Employee surveys provide you with customisable questionnaire templates that you can automate. And the information gathered appears in the dashboard, making it easier for you to draw conclusions.

Employee satisfaction
As we mentioned earlier, software today enables you to create satisfaction surveys to measure your employees' happiness and well-being. You can use predefined questionnaires or customise them if you want to analyse one aspect in particular. These are, of course, anonymous and almost always provide a free-text comments field so that the employee can provide extra information if they wish.
‍
The way you collect and store employee information is critical. Having a report that measures the company's pulse is vital for planning initiatives in both the short and long-term. At Kenjo, for example, we use software to gauge the work climate in real-time. Here is a snapshot of the work climate at Kenjo at the time of publishing this article.
‍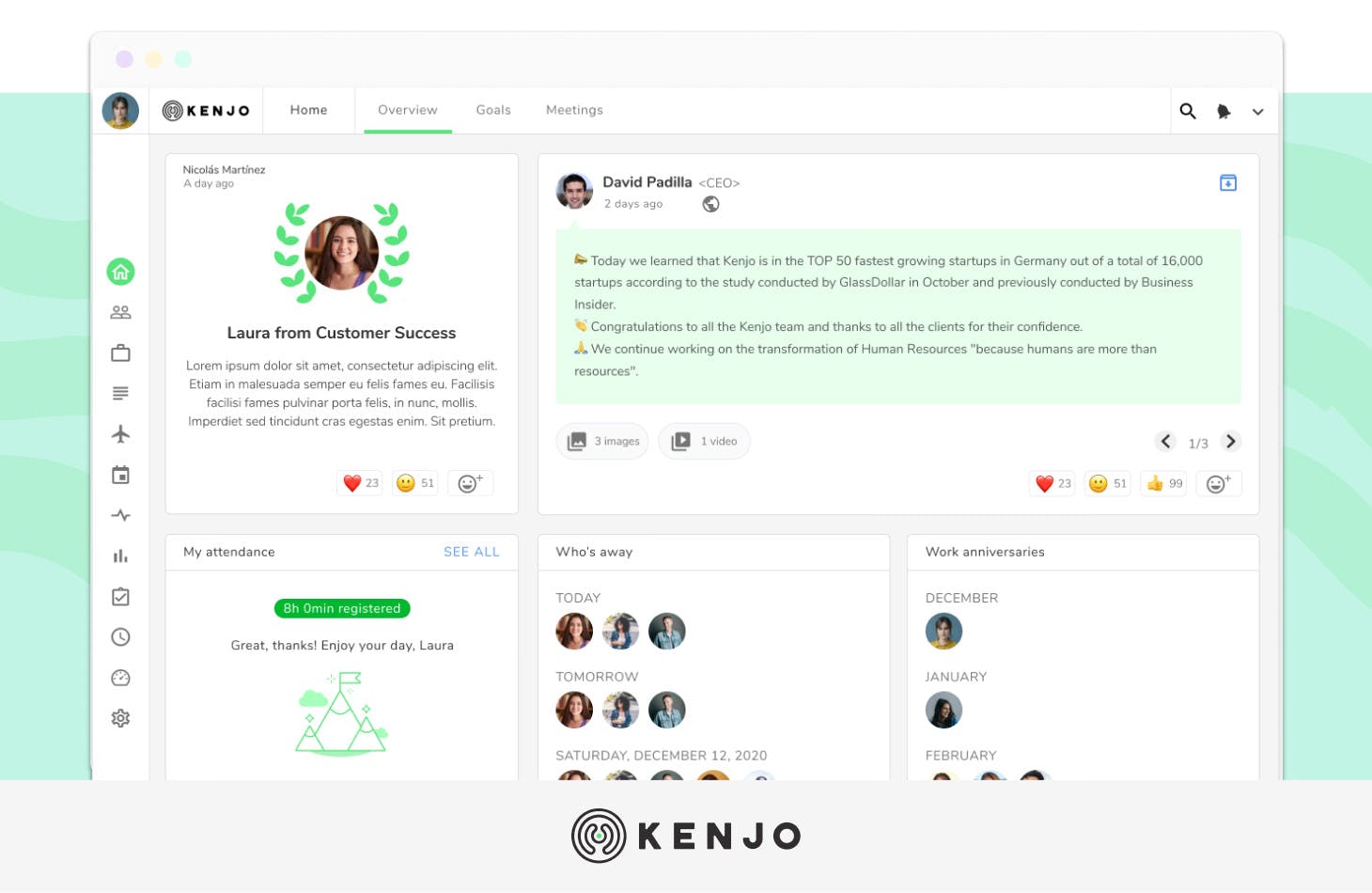 eNPS
The eNPS, or Employee Net Promoter Score is a metric that companies use to measure employee loyalty. There's a straightforward way to discover this: ask your employees how likely they are to recommend a friend to your company as a place to work. Questions are answered on a scale of one to 10 to arrive at an average.

There's a very straightforward way to get this data (a simple email is sufficient) and gives you a very realistic view of your employees' satisfaction levels. You can also track its evolution and see whether the various initiatives the company introduces are making an impact.

HR reporting and analysis
The human resources department has increasing strategic influence within the company, and many of the decisions it makes have a direct effect on business objectives. And this is why it's crucial to make decisions based on real and updated information.

Nowadays, human resources management software includes reports and analytics that enable department heads to create their own dashboards, analyse data and draw conclusions to support their decision-making.

Workflow automation
There are many repetitive manual processes that, thanks to today's technology, can be automated to lighten your team's workload so that they can spend time on more strategic tasks.

It's therefore essential to choose HR software system which enables you to customise workflows. One that allows new employees to upload their information to assist directly, for example. These are small tasks that, once they are taken care of, will help you get the most out of the time you have.

Automations for workflows
Within workflows, you can also set up automated actions that alleviate the team's workload as well as improve the employee experience. For example, you can also programme automatic emails to everyone who has a job vacancy, updating them on the selection process. So this enables you to offer a more committed and friendlier image, but with minimum effort.

Org Chart
An organisational chart, or organogram, is a visual representation of a company's structure. It illustrates who reports to who, who belongs to a certain department, etc. This is a handy tool which is worth keeping updated.

‍Company org chart software offers the functionality to recreate this structure in the digital environment, making it easier to modify and share with the rest of the company.

Employee portal
Employee portals are extremely useful and also help improve the employee experience. This digital environment enables employees to access key information, such as how many holidays they have left, download payslips, consult the company organogram, etc.

This is a handy tool for employees, who can easily access information that's relevant to them without having to ask HR for it. But it's even more convenient for the personnel department as the number of queries they receive from employees will plummet.
‍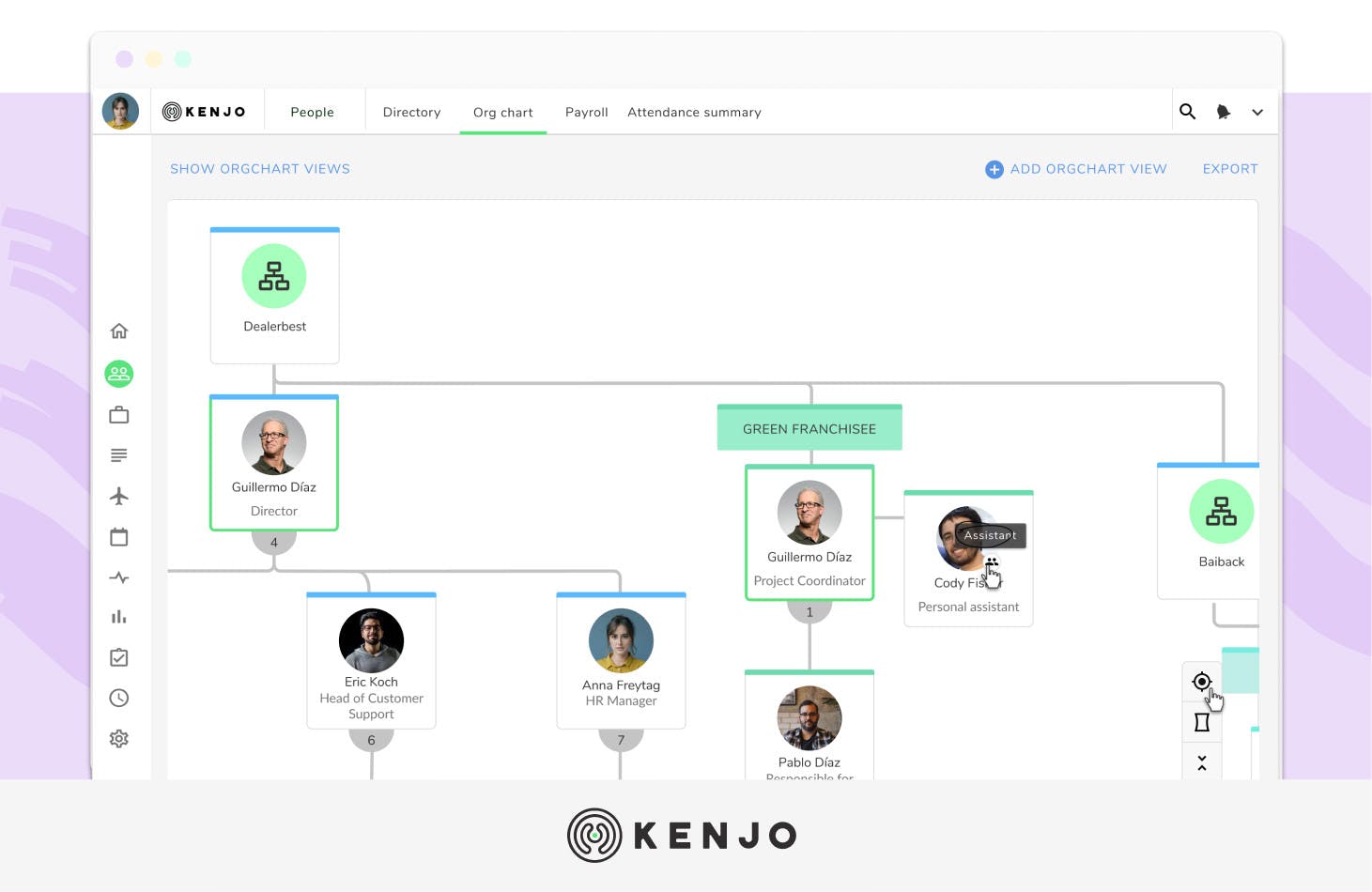 Real-life example of our software
Document manager
Many cloud HR software platforms also act as online filing systems as they enable you to store documents and share them with employees. So, instead of using storage systems, the company can integrate this under one single platform and guarantee that the information is secure and available whenever needed. This is particularly useful for storing employee payslips, for example.

Digital employee file
In the same way, all employee information is stored in the cloud: contact information, salary history, promotions, etc. You can create a file for each one, and department managers can consult them in just a few clicks.