The European Union regulates basic standards relating to employment and working conditions. These were outlined in the Community Charter of the Fundamental SocialRights of Workers in 1989. However, this charter specifically excludes remuneration and collective bargaining, which are left to each member state to decide.

So, depending on which country your HR department is based, you'll need to consult and adhere to the laws on remuneration that apply.

But let's take a look at how some countries approach this area of minimum employee remuneration.

Germany
The German Minimum Wage Act (Mindestlohngesetz) was passed in 2014. Before that, wages were set primarily by trade unions and business groups.
‍
The rate now stands at €9.50 per hour (January 2021), which means pre-taxed wages of €1,647 for people working a standard 40-hour week.

Spain
The Spanish Government published the Royal Decree 231/2020 of 4th February 2020, and which set the minimum gross salary at €950 per month.
‍
This minimum monthly wage has increased steadily from €600 in 2008, until 2019, when it was given a 5.56€ boost of €164 with the introduction of this law.

France
France currently has a national minimum wage of €1,539.40. This is an increase of 1.2% in 2019, but less than the previous year's increase (1.5% from 2018-2019).
‍
This puts France ahead of Germany with a minimum hourly rate of €10.03 per hour, ad is the same for all working adults, regardless of age or experience.

Italy
While there is no official minimum salary in Italy, most Italian workers are covered by minimum wage agreements established through collective bargaining.
A report published by Statista demonstrates that salaries differ considerably by region. The highest earners were based in the Northern Italian region of Lombardy, at €31,400 per year. In contrast, Southern Italy accounted for 17% of the country's low-paid workers (those earning less than two-thirds of the national average).

The United Kingdom
While the UK is no longer part of the EU, its employment laws will still be of interest of many readers. But there is no one-size-fits-all minimum wage in Great Britain, and it depends on employee age and whether they are an apprentice.
The current National Minimum Wage for an employee aged 25 years and over is £8.72, although you can check or calculate the rate for a broader range of age brackets in the UK Government website.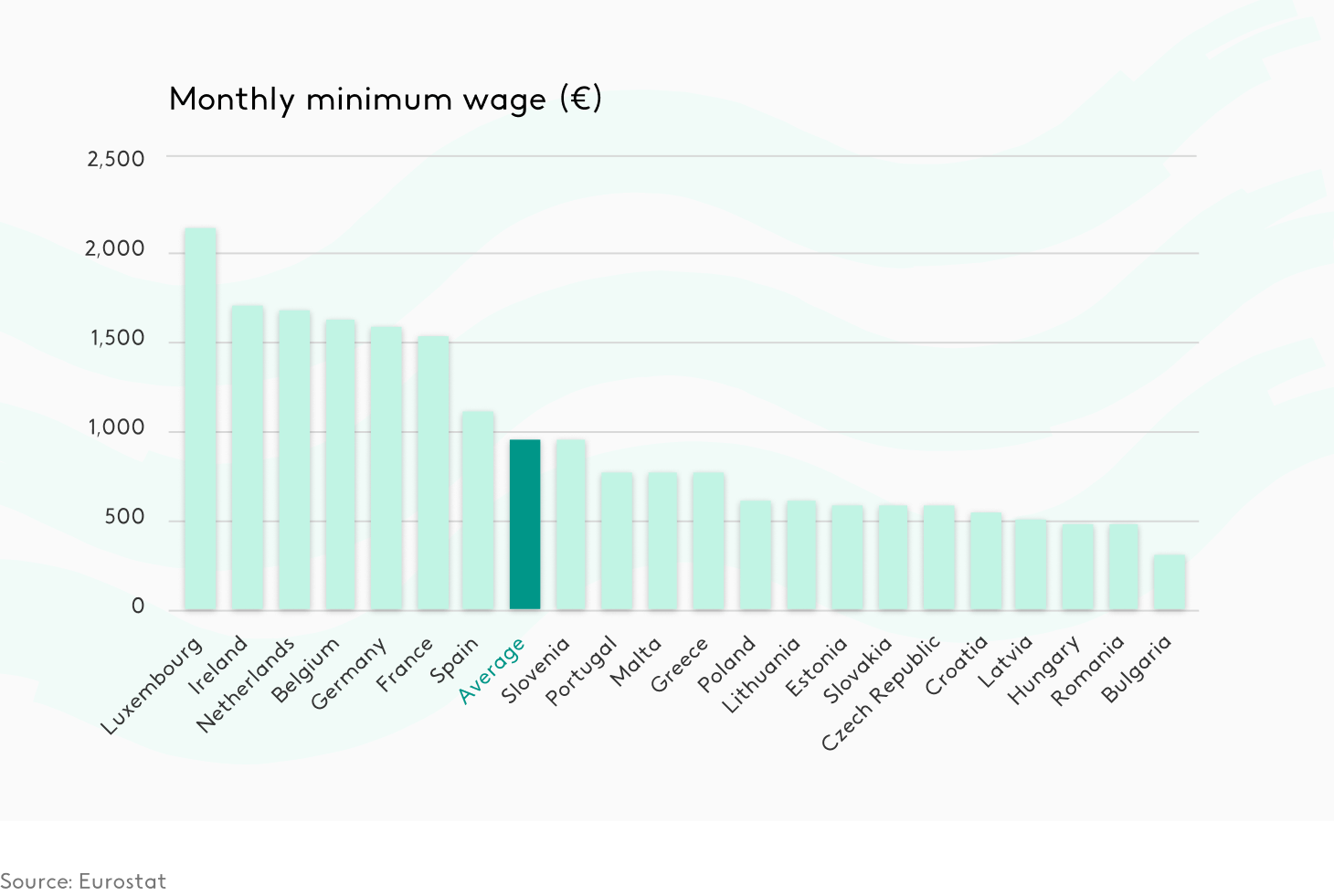 Like an employee's monetary salary, many benefits can be taxable, depending on their type and nature. Whether employee benefits are taxable will depend on the place the benefit is offered (onsite or offsite) and if the entire workforce receives it, or just a selected few.

Among the different types of employee compensation, flexible benefits schemes are becoming increasingly more popular:
‍
The UK Government website, for example, provides tax guidance for employers who offer benefits. And taxes may also vary if these benefits are part of a salary sacrifice scheme.

Companies who offer a flexible benefits system enable their employees to choose which benefits interest them the most. However, such benefits should never fall below a certain threshold. In Spain, flexible benefits can never exceed 30% of the employee's salary. And in the UK, workers must receive at least the National Minimum Wage in cash, independent of benefits.

Another form of compensation to consider is payment in kind. In most countries, payment in kind cannot exceed 30% of an employee's salary and must not count as part of a minimum wage. Nevertheless, each country has its own specific legislation. For example, there is a maximum daily monetary value on payments in kind for domestic workers in France and Switzerland. Some forms of payment in kind can include company cars and transport subsidies.

Lastly, your remuneration plan must take gender pay gap legislation in your country into account. According to Reuters, however, 13 EU member states still have no pay transparency measures in place. Others vary, such as Germany, who introduced the right to pay information for companies with over 200 employees, and Belgium who plan to combat this through collective bargaining.